The picture on the left is from the Diwali Mela of 2017 organised by our resident welfare association. Aditi had bought a heap of embroidered lady-suit pieces from our last vacation to Kashmir at wholesale prices, and we were hoping to make a decent margin after selling them at a 30% markup.
After 5 hrs of manning the booth… we packed up and came home. In summary:
We were able to sell only 1 suit for a price of 1,500 rupees. [The stall's rent costed us 4,000 rupees].

We realised that embroidered suits are NOT in Delhi fashion.

We realised that ladies like to buy readymade kurtas… and not suit pieces.

For the next 6 months…everyone we visited was pleasantly surprised by a gift… an exquisite hand-embroidered piece of clothing from Kashmir.
BTW – The Diwali Mela of 2016 was a grand success for us. The "naya naya" entrepreneur in me wanted to try my hand at retail selling. After some brainstorming… Aditi and I decided to sell clothes for new borns. Much to the chagrin of mum and dad, we set up our stall. Parents response:
"Why are you doing this? You don't need the money…"

"You'll embarrass yourself, and us too"
Well, we weren't doing this for the money.We were doing this as a joint husband-wife activity, a byproduct of which could be a tiny profit.
We had both quit our jobs almost at the same time to become entrepreneurs… and thought of selling "baby pyjamas @ 300 rupees for a pack" to passerbys seemed like good target practice to let go of ones inhibitions, increase confidence and improving selling skills.
Besides, I believe that everyone should practice selling. Selling a part of life; and is needed for just about everything we do or hope to do – and I see no shame in it . In fact, I'd encourage and support my kids to develop selling and persuasion skills. Selling is an integral part of being an entrepreneur. It's a pity schools in India don't teach entrepreneur skills, financial skills or selling skills – I believe our youngsters need someone to inspire and inculcate them into the art of managing a business.
Previous blog posts in the "Kuch Apna Karna Hai" series…
Profanity Alert: The text post contains some swear words.
Lesson: Get into a partnership without doing any research, get screwed, and hit rock bottom.
First, find a job that pays you a little over half a crore rupees each year – where, after 2 months, you're bored and don't get any feeling of job satisfaction.

Start reading biographies of famous entrepreneurs like Elon Musk, Jeff Bezos, Richard Branson, etc – stand in front a mirror and say to your reflection – "If they can do it, so can you!". Then repeat it 100 more times while doing a Rocky Balboa impression. Think of a name for your company… After days of thought, decide on a name that means "Life" in Hindi/Urdu.

Meet an old acquaintance at Al Bake restaurant in New Friends Colony… He tells you how devastated he was after having been fired from Cisco, for reasons not having anything to do with his performance. Realise that this can happen to you too and, while gobbling up those rolls dripping with mayonnaise that Al Bake is famous for, you determine…decide… commit to take action! Go home… and watch Rocky part 4 (coz that's the best one, and gets you all pumped.. especially the training scenes!… DRAAAAAGOOOO!!!)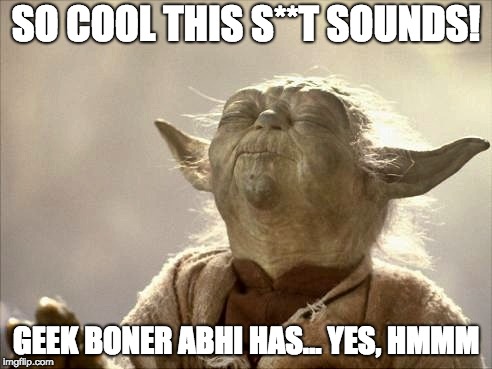 When in Gurgaon for a customer meeting, pay a visit to an old acquaintance from one of your previous jobs from 9 years ago. Have a couple of beers with him. Get WOW'ed when told that his company is doing AI, machine learning, robotics and all sorts of crazy shit, and has offices all over the world. You…get a geek boner. Get convinced that all that he's saying is true, coz.. well, he said it… so it must be.
Get offered a partnership to start a new venture by his elder brother…. It's a deal which has them and you sharing both sharing the profit and loss at a ratio of 70:30. Say "Yes! I'll do it!" and agree to transfer your share to a joint account. Do NOT bother asking them to share their financials or last years' balance sheet.

Quit your job after having worked there only 3 months. Pay the company back, the 5 lac rupees "joining bonus" which would have been yours, had you stayed 6 months.

Transfer your share of the agreed-upon amount, thinking that the Gratuity payout you got after working for Cisco for so many years will now be put to good use!

After a couple of weeks… Ask your new "partners" why they haven't transferred their share – get impressed by an answer which has words such as sweat equity, capital infusion over a timeline, company valuation based on future value, and other such horse crap.

Have them setup a new office for you in Nehru Place…It's pricey, but hey.. why not?! You're going to be sharing the rent 70:30 anyway, right!

Find it odd that you're being asked to visit Gurgaon multiple times each week and report to your partners, and give "commits" on what all new business you'll get them. Hmmm… this doesn't feel like being an entrepreneur. It's pretty much…more of the same.

Get told that you need to present a "business case" to your partners for every spend – rent, laptops, Zindagi employee salaries, etc. Spend the next few months wondering if you made a bad decision.

Get told by your partner's employees over coffee, that the company is bankrupt and that they haven't received their salaries for the past 3 months. Tell this to your partners. Next day… Find out that the guy who told you this is no more (in the company.. at least). Feel sorry for him, and for having ratted him out.

For the 10th time… ask your wife "Why haven't you told your parents about my decision to quit my job and start on my own?"… and then hear the same polite answer… "Oh, it slipped my mind love, sorry – will tell them the next time we meet". This to yourself – "There you go…Woman intuition has spoken! This whole thing was a bad decision on your part."

Then one day, one of your team members walks up to you and says they were not paid their salary for last month. You get pissed. "AAAGGGHHHH! HULK… SMASH!!". You put across your point

firmly

to your "partners".

Two weeks go by, your team member still doesn't get paid

. You transfer the money from your personal account. "Uhhh… Hulk… SULK…"

Tell the "partners" that this "partnership" isn't working. That you'd like to quit and retain the company name you chose. Get told that you'll need to transfer 3 lac more to ensure that the "transfer is smooth". Decide that it's better to pay up than get involved in "legal issues". Get the paper work done.

Realise that you've just been fucked. Let that feeling sink in while driving back home… while taking a walk in the local park… while nibbling at your dinner that night.

Realise that you can't let your team know what you're going through; and that you need to appear positive, confident and motivated at all times.

Thinking that the worse is over now that you're free – go back to cool expensive office to find that the rent for the past 3 months has not been paid. Go over the bills and realise that the rent agreement is in your name and not in the name of your partners. Find a place to sit and gain composure upon seeing what you owe them.
You make a discovery – panic can induce projectile vomiting.
Decide not to share any of this with Ma and Pa. [P.S. Ma… I know you'll read this blog… now you know]

Decide not to borrow money from your friends… Your ego won't allow it.

Accept money from you wife – the money she got as "Shagun envelope" gifts when you two got married. You walk away slowly with the wad of cash…muttering to yourself repeatedly… "Shame on you, you fucking piece of shit! Shame on you.. You f…"

That day, go to the gym in the afternoon and do a 200 KG Deadlift. Make loud grunting noises on each rep.

Start saving on expenses wherever you can..

Stop driving the car to save fuel, strictly use UberPool or metro.

When at the super market, look at the price label of an after-shave you like and upon seeing the price, put it back down saying "Who needs these anyway".

Reduce your whey protein intake so the tub lasts longer.

Realise that Mattra-Kulcha is a perfectly fine meal to make you survive the whole day.

Argue with every parking wala bhaiya for overcharging you by 10 rupees.

Make cold calls to MNCs to sell your services. Wait in the reception to meet the IT heads / CTOs to offer your services… Get told each time that "Sorry, we can't work with a company that hasn't been in the market for even a year".

One day, when coming back from another sales call with no positive leads – call mom and dad and ask them that you're near Safderjung and if they'd like something from Rajinder Ka Dhaba. When they say yes to some tikkas and kebabs…

Open your wallet to find 165 rupees in it.

Get told that Rajinder ka dhaba only accepts cash.

Go to the ATM machine and find that all three of your bank accounts are empty.

Unsuccessfully try using the credit card to take money out of the ATM machines.

Call the credit card company and tell them that their card sucks!

Go to a back alley behind the restaurant, find a corner where no one can see you… and cry, till the point your tear ducts are dry… and then, cry some more.

Go home and tell mom dad that you took a wrong turn and missed going to the dhaba.

There I was – Zero business, Zero money in the bank, Zero motivation to move forward…
Abhijit… meet Rock Bottom. Rock Bottom… meet Abhijit
Next day, in the Gym – do a 130 KG Bench Press (Don't forget to grunt loudly) while listening to sound tracks of Agneepath, Mangal Pandey, Sardarji, Rocky, and "All time hits of Jazzy B". Feel glad about the fact that people can't tell the difference between tears and sweat when you're perspiring like a pig.
AGNEEPATH

Vriksh hon bhale khade,
Hon ghane, hoh bade,
Ek patra chhah bhi
Maang mat! Maang mat! Maang mat!
Agneepath! Agneepath! Agneepath!

Tu na thakega kabhi,
Tu na thamega kabhi,
Tu na mudega kabhi,
Kar shapath! Kar shapath! Kar shapath!
Agneepath! Agneepath! Agneepath!

Yeh mahaan drishya hai,
Chal raha manushya hai
Ashru, swed, rakt se
Lath-path, lath-path, lath-path,
Agneepath! Agneepath! Agneepath!
Agneepath (The path of fire) – A poem by Harivansh Rai Bachchan
The next day, evaluate your options: a) Throw in the towel, give up, go back and join a job, b) Become a freelancer until you become an entrepreneur.

Choose option (b) – Become a freelancer. Register yourself on UpWork.com, freelancer.com and other web sites. Start asking all your friends in your previous organisations for work – any work…anything that'll pay you enough to keep the company afloat.

Configure firewalls, write python scripts for automation, set up proxy servers, migrate a startup to AWS, do SDN implementations, troubleshoot network issues, setup video surveillance systems… Do not say no to any work. Pick it up, do research, become an "expert" at it overnight… and then set it up for your customer.

Take up multiple part time jobs so that you can pay the salaries, provide for your family and keep the lights running, both in office and at home. Do double shifts.. do triple shifts. Work weekends. Live a student life. Curtail on all surplus expenses.

Then, one day – when you've saved enough to cover expenses for the next few quarters, when you've executed multiple orders to build confidence in your customers, when you can see a healthy pipeline of business coming in – Then…ek baar phir se, rekindle that dream… quit from all jobs so you can focus on what you started out to achieve… once again, nikal padho… kuch apna karne ke liye.

Remember the lessons you learnt from all of this:

Avoid getting into a partnership with anyone. Be independent.

If something sounds

too good to be true

, it probably is.

Do not get into any business opportunity until you understand and know everything there is to know about the deal.. and about the people who are offering it to you.

Cherish all your friends. Your friends can pull you out when you're in a cesspool of despair when you call out to them for help… they'll put in a kind word for you to their customers, they'll give you a part time job, some even sign a quarterly retainer deal with you for your consultancy services. NEVER forget these people and what they did for you when you needed them, and go out of your way to return the favour.

Your customers are your best marketers. If you're good at what you do – slowly but surely, word WILL spread, people will know what you represent, the values you espouse, and the quality you bring in the work that you deliver.

Commit to yourself that you'll make more friends and keep increasing your circle of contacts. Help anyone who you can – in the best way you can. "You will get what you want – if you help others get what they want".

Always carry an attitude of gratitude... for your and your family's good health, for your loving family who supported you through thick and thin (despite your being an eccentric, stubborn, recalcitrant schmuck), for your friends and well wishers… Always thank the Almighty for having blessed you with the spirit of tenacity and the willpower to not give up.
"You Just Can't Beat the Person Who Never Gives Up" – Babe Ruth
Lesson: Hire a Chartered Accountant
Very helpful in filing taxes and maintaining compliances 🙂